Dear Divorce Coach: 
It's been enough time since my divorce and I'm realizing I haven't been on a date since before I met my spouse, and that was over 10 years ago! The whole dating scene is different and I am overwhelmed. I don't even know how or where to get started. Do you have any advice for how to date after a divorce?
– Dating After Divorce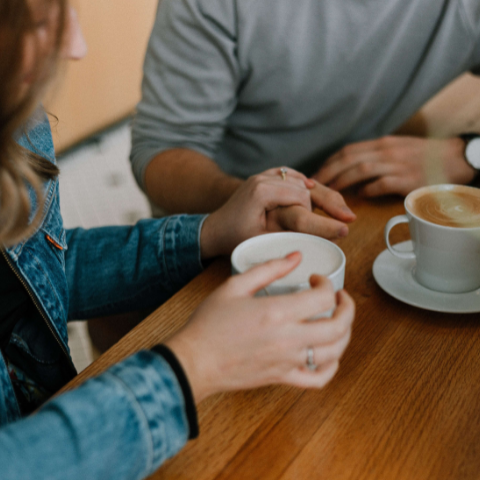 Dear Dating After Divorce,
I have absolutely been in your shoes as have many men and women who are trying to figure out how to date after divorce. While the thought of dating after the end of a long-term relationship or divorce can certainly be scary, you will date again and likely find love too.
You just have to take it one step at a time so it's not too overwhelming; this is especially true when you may not have gone on a first-date in double-digit years. I often have to remind my clients that there's no one-size-fits-all approach to dating after divorce. Since you've decided to start dating again, I also want you to make sure that you are genuine and authentic about your dating goals — whether you're looking for something casual or a more serious relationship.
1. Define your perspective: you do not need to marry your first date.
In other words, try to reframe your thinking to take some of the pressure off. Remember that you are in control of that first meeting and that means you can manage its expectations. It can be as short as an hour or, if you are having a pleasant time, can last longer. Don't meet at your home, instead pick a neutral and public location. Here are a couple ways you can approach the date differently if it helps you relax:
Don't even think of it as a date, rather your date is strictly for some adult company. You're just meeting a potential new friend for the first time and you'll see where it goes.
Think of your time out on a date as "me time". You will be away from work, away from home, and you may enjoy learning about another person's perspective on new and interesting topics.
Consider meeting during the day where it can be more casual and you are less likely to be surrounded by other people on dates.
2. Spend some time with the dating apps and see if there's one (or more) that fits you.
You're right – times have changed and dating is not the same as it was 10, 5, or even 2 years ago (thank you COVID). But like anything, you can manage how you approach or whether you even use an app. It can be overwhelming and if the last time you dated was pre-dating apps, there will be a learning curve.
If you have some single friends, consider reaching out to them for advice on how to navigate this medium. They may be well versed in the dos and don'ts of these apps and can help you create a profile that speaks to the type of relationship you're ready for.
Many of these apps have also been around for years and have been optimized to enable you to search and filter based on what you're looking for in a potential match. So, if you were recently separated, you could seek out others who are also separated. If you were divorced or widowed and have spent time recovering, you can seek out others who may share the same situation.
Continue to keep in mind the goals you want as you build out your profile and begin to use the app. You should be prepared to put in some real work and likely meet some duds. Be open to chatting online or texting as a first step until you are comfortable meeting in person; or dive right in and set up a casual coffee date. However, never give personal information and never send money to people who you've only met online.
Like anything, online dating has pros and cons, and if you go in eyes wide open, you may find what you're looking for to get back out there. And for some, they find a great match and a new partner.
3. Build your self-confidence as you date after divorce.
This can be a very vulnerable period; and newly single individuals may be overly critical of themselves, especially if they're coming out of a really difficult divorce. Emotions may still be raw and I've had clients whose self-esteem has taken a nose-dive as they wonder if they are appealing now. I encourage them to take some time to focus on their own self-care and reestablishing their self-worth. We are all works in progress and even behind the most "perfect" person, we find insecurities. Be confident and others will see that confidence shining through too.
4. You are in control. Do not feel pressured to go anywhere or do anything that is against your nature.
You may not feel like it, but you are in the driver seat as you begin this new phase post-divorce. You can set your mindset and the type of dating experience you want. If you don't like cocktails, don't meet at a bar. Meet at a bakery or a coffee shop. If you want to try something new, suggest it.
But if your potential date is suggesting something that just doesn't appeal to you, do not shy away from proposing an alternative option. If you act in ways that aren't comfortable for you, you will not likely find a good companion. Everyone has different values and the important thing is to honor yours. You have the chance to do that now and you should take advantage of making choices for you!
5. Be authentic as you enter the dating world again.
It may be tempting to "reinvent" yourself as you start fresh, but be mindful not to present something different or change who you are unless you want to do so. As you create your profile, reflect the things you like to do and what you are looking for in a potential partner; not who you feel you should be to gain more interest. Do not say that you like bungee jumping if you are actually afraid of heights and prefer something more low-key like a bike ride.
When you go on your first few dates, be yourself. I cannot stress enough the importance of being true to who you are and not falling into the trap of being someone you think others want you to be. Yes, you want to impress your date and yes you're hoping there will be more dates to follow, but I remind my clients, you want your new interest to want to date YOU, not a pretend version of you. An act is not sustainable nor will you be happy about it in the long run. Do not be afraid to show up as you and proud of all you bring to a potential relationship; be open, honest and yourself.
6. You can choose to keep this time private and discreet if you want.
There are a lot of reasons you may not want to broadcast that you're back on the dating scene and that's perfectly okay. While your friends may be excited for you, they also can place unintentional pressure on you by living vicariously through you and this exciting time of your life. Once again, you are in control so if you don't want to share with your friends, don't. You can even consider meeting your date in a different part of town, if you're concerned you'll be spotted and that's more comfortable for you to keep things private.
There's also no need to share anything on social media, especially if you have minor children. While you may feel pressure to post updates on your journey, you are in no way obligated to do so. You can share when you're ready and comfortable. As you can see, using common sense and good judgment as well as some practical skills makes it possible for you to begin a future that works well for you.
Success will come over time. Do not put much pressure on yourself, have fun while following some guidelines and, whether you end up with a relationship in the end, you will certainly discover more about you.
Best of Luck,